Want to view distant objects with beautiful clarity, and find out how far they are?
Now you can do both with the amazing Leica Geovid-R 10x42mm Laser Rangefinder Binoculars. The Leica Geovid-R 10×42 Rangefinding Binoculars – Yards w/ EHR focus on the fundamentals, featuring excellent optics, accurate distance measurements, ballistic compensation, and excellent ergonomics at a more affordable price. The maximum reflective range is 1200 yards, and the field of view at 1000 yards is 331 feet.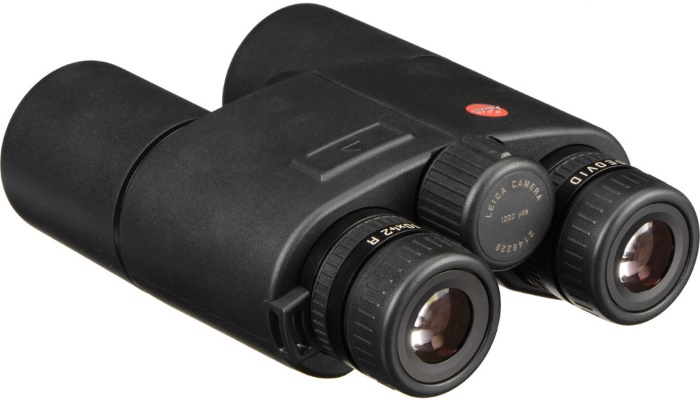 Leica's Geovid R Rangefinder 10×42 Binoculars feature a high-performance optical system, reliable distance measurement, and ballistic angle compensation. Comfortable with a wide field of view, these nitrogen-filled binoculars are ideal for scanning broad terrain or viewing for long periods of time. High-contrast lenses with edge-to-edge image sharpness ensure easy identification of even the smallest details, while the LED display automatically adjusts brightness to lighting conditions.
The Leica Geovid R Rangefinder Binoculars display linear distances for a measuring range of up to 1,200 yards (1,100 meters). The ballistics function displays the equivalent horizontal range for angled shots from 10 to 600 yards (or 10 to 550 meters). Waterproof to 16.5′. Includes contoured neoprene strap, front lens caps, eyepiece caps, battery, and Cordura® case.
For enhanced durability and reliability, these Binoculars by Leica are nitrogen purged and properly sealed, making them fog-proof and waterproof. The lenses of these Leica Binoculars contain an HDC multicoating to produce the brightest, highest contrast images imaginable.
By using the scan mode or single measurement, you can get precise readings in the field to plan your next shot, and get the readings on an LED display that adjusts its brightness according to your ambient lighting conditions. Survey the field on your next hunt and pinpoint precise distances to properly calculate your next shot with this Leica Geovid 10×42 Rangefinder/Binoculars Combo.
Order your Leica 10×42 Geovid R Rangefinder at Sport Optics today!