Are you ready to embark on your next exciting safari adventure?
Have you planned a sailing trip or chartered a yacht to sail the Mediterranean?
Or
Do you want to spend time observing wildlife and nature?
The high-performance Leica Noctivid 10×42 delivers you an unrivaled experience, packaged in a compact, elegant yet incredibly robust design.
Small and light enough to be carried on every trip, the Leica Noctivid 10×42 Green provides exceptional viewing in all light conditions. Exceptionally well balanced due to the compact design of the binocular tubes, and covered with a durable green rubber armoring, the Leica Noctivid 10×42 offers an outstanding grip and sits comfortably in the palm of the hand.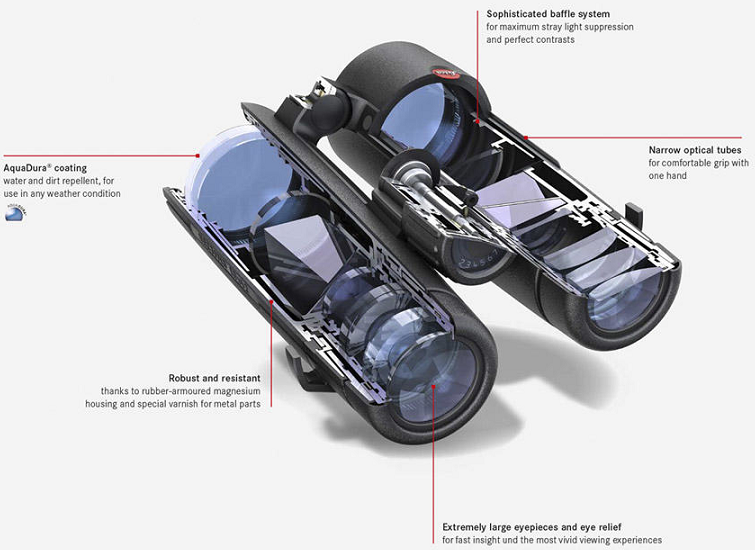 The Leica Noctivid 10×42 Binoculars Green is Leica's pride, as far as binoculars are concerned, they are equipped with the finest quality lens and prism elements that produce an astoundingly clear image. It features ingenious 'baffle systems' to suppress stray light, keeping reflections to an absolute minimum, while retaining maximum contrast. In addition to that, the lens radius has been modified to improve sharpness right up to the extreme edges of the viewing image.
Engineered with 12 glass lens elements, the Leica Noctivid 10×42 ensures first-class optical excellence even in the most challenging situations. Its precision is unmatched, thanks to a newly-designed focusing wheel, which allows pin-sharp focusing on even the tiniest of details – bringing distant objects into view instantaneously. For challenging weather conditions, Leica's innovative AquaDura® coating ensures a stunning, crystal-clear view at all times.
Leica binoculars are is manufactured with high-performance SCHOTT HT™ (High Transmission) glass, delivering incredibly natural color rendition, thanks to a special new high-temperature 'plasma deposition process'. The premium-quality lens coating guarantees perfectly balanced light transmission throughout the entire wavelength range of visible light. This results in a breathtakingly bright and color-neutral viewing image.
Schott HT glass with optimized anti-reflective coating maximizes sharpness and contrast with fantastic color rendition throughout the entire 336′ field of view. This viewing quality is appreciable up to close focusing distance of just 5.9′ for observing nearby targets. To ensure durability and performance, Leica has also employed a patented varnish that provides a secure grip and protects the magnesium housing, which is perfectly balanced to make holding the binocular incredibly easy.
Enjoy edge-to-edge clarity, bright and clear high contrast images with Leica Noctivid binoculars. Order yours today at Sport Optics and enjoy accurate color rendition across the entire visible spectrum.