Are you looking for a state-of-the-art, innovative and illuminated riflescope for your next hunt?
Check out the latest Leupold VX-5HD 3-15×44 Illuminated CDS-ZL2 Riflescope which is exclusively designed for the hunt featuring a FireDot illuminated reticle that offerss bright, red-dot like performance during the day and easy one-button intensity adjustment.
This riflescope combines a High Definition optical system and the Twilight Max Light Management system, providing hunters with a distinct advantage at dawn and dusk due to sharpened clarity and superior low-light performance.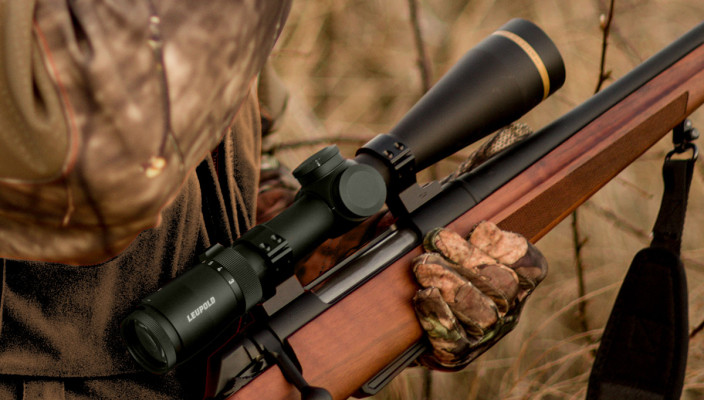 Its 3-15 magnification range lets you take full advantage of any situation. Crank the power down to three for thick timber hunting, ratchet it up to 15 for your trek across the open plains, or go anywhere in-between during your range days. The VX-5HD 3-15×44 has the versatility to dominate them all.
The Leupold VX-5HD RifleScopes have a specialized Custom Dial ZeroLock 2 (CDS-ZL2) elevation dial that locks in place so you won't accidentally rotate off zero, and with a quick button press you can dial up the elevation by two turns. For extreme accuracy when it counts, choose the Leupold VX-5HD 3-15x44mm Side Focus Riflescope.
The VX-5HD defines relentless versatility. Its wide magnification ranges give hunters and shooters the ability to adapt to any environment. With the Twilight Max HD Light Management System, it's purpose built for the toughest lighting conditions. Rugged and reliable, the VX-5HD is ready for your next adventure.
Leupold riflescope brings the reticle into focus quickly with Fast-Focus eyepiece. It disperses recoil energy for unrivaled durability and performance with ultra-lightweight construction. It extends battery life with Motion Sensor Technology (MST) and automatically deactivates illumination after 5 minutes of inactivity, yet reactivates instantly as soon as any movement is detected.
The riflescope is absolutely waterproof and fogproof which means it is ready to perform in the field, in all conditions.
Get your hands on this brand new riflescope from Leupold on Sportoptics at the best affordable rate.