Nikon 10×42 Monarch HG Binocular is by far the best binocular in Nikon's flagship series. It is engineered with a power magnification for observing distant subjects such as large game or marker buoys, with complementary technologies to produce an optic that is built to perform in low light and the harshest conditions.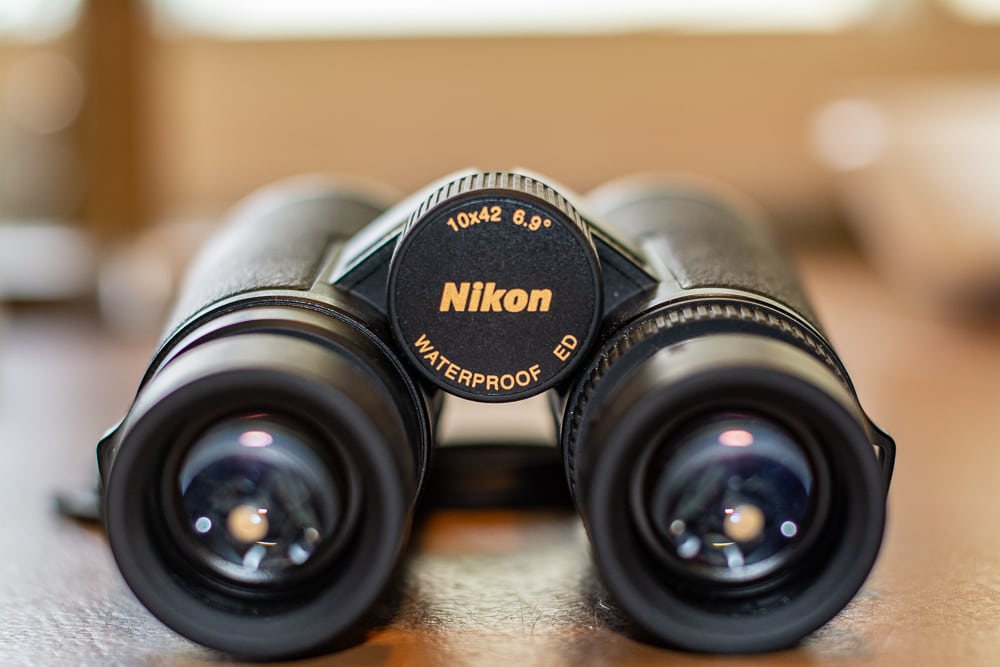 The new MONARCH HG was built from the ground up to achieve class-ruling optical performance, unrivaled ruggedness and exceptional handling. From eyecups to objective lenses, the new patriarch of the flagship Nikon MONARCH binoculars family pushes binocular performance to higher levels through design, technology and 20 years of MONARCH ATB-building experience.
First is the use of lead- and arsenic-free extra-low dispersion (ED) glass in the lens elements to correct chromatic and spherical aberrations. Next are phase-corrected and dielectric-coated roof prisms, which further limit internal light loss and interference and improve image contrast.
If features an optical path that is fully multi-coated with anti-reflection coatings, which increase light transmission, image contrast, and sharpness and provide true color rendition.
Nikon's field-flattener system eliminates the distortion common at the lens edges, producing crisp details along the far periphery of the wide field of view. This all translates to bright and clear, high-contrast images with accurate color across the wide field of view with a reduced appearance of visible hand shake—especially at low light such as early morning and late evening, and under heavily overcast skies.
Monarch's chassis is built with a short bridge design, which presents more gripping surface and helps to reduce the overall weight. Made to survive use outdoors, the optical tubes are nitrogen filled and O-ring sealed to make them not only fogproof when moving between extreme temperature changes, but also waterproof and submersible. The exterior has textured, rubberized panels that protect against knocks and drops and offers a slip-resistant grip for sure handling in cold and wet conditions. Nikon includes tethered objective lens covers and ocular rainguard to ensure they cannot be lost easily and are ready for use at a moment's notice.
Engineered for durability and long-distance performance, this Nikon binocular is your ideal companion for conquering any peak. Grab it now!