Looking for the perfect mount for your riflescope?
Check out the Spuhr Competition Riflescope Mount that is especially designed for speed shooting in 3-gun and IPSC-style competitions. It was originally developed for the Noveske Team to give them a distinct advantage in competitions. It provides a nice good cheek weld, making fast and instinctive shooting much easier and faster.
The ISMS (Ideal Scope Mount System) is an extremely sturdy scope mount, that enables you to attach multiple optical accessories directly to the mount. Built-in scope level and 45-degree split of the rings provides users unobstructed view of their optics knobs. The durable design of the mounts prevents damage to the scope due to flexing during heavy recoil. The rings are grooved on the inside for better grip and the mount base is milled from a sinlge billet of aluminum.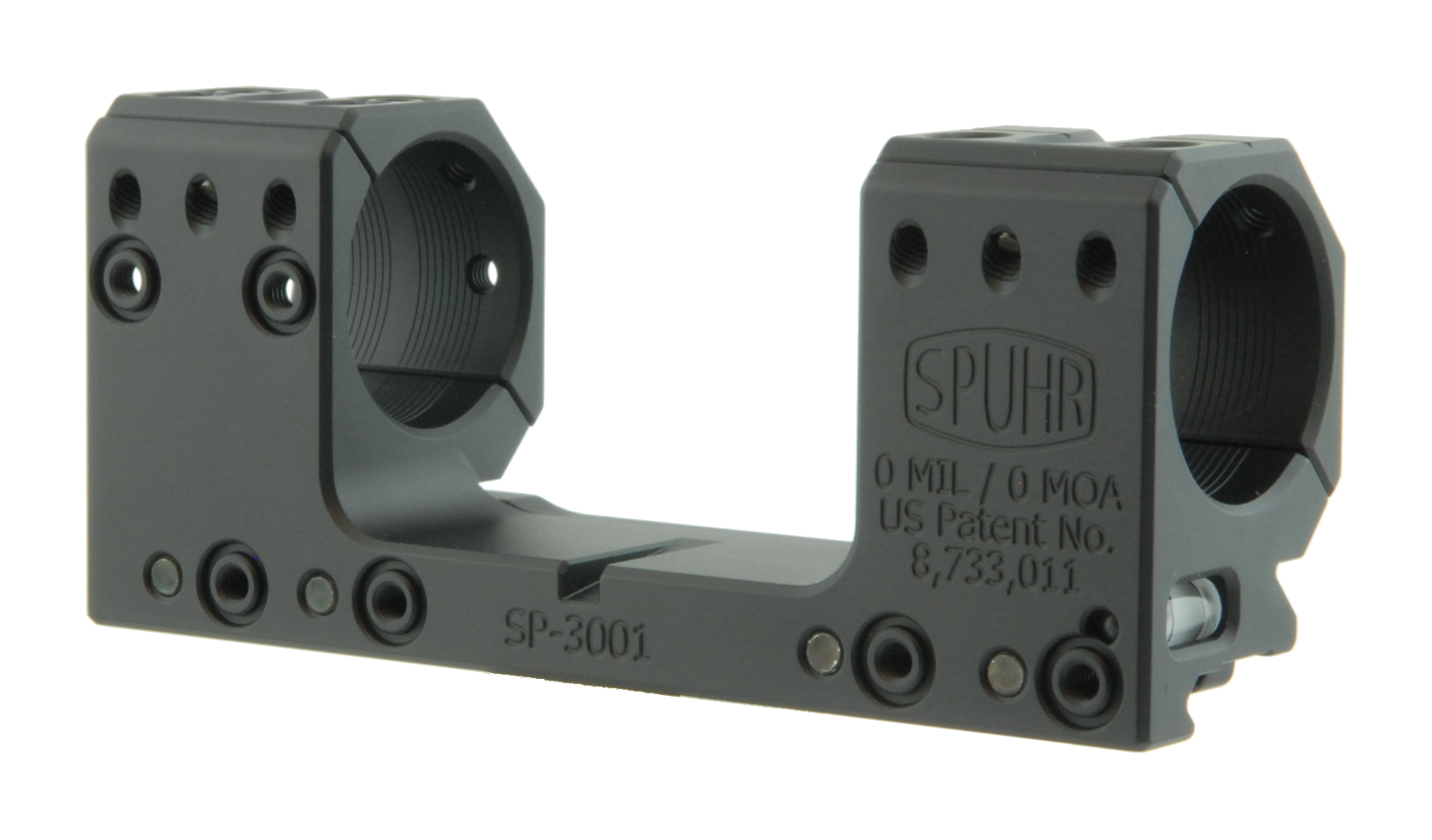 Spuhr Cantilever Scope Mounts include an innovative tool to index your scope properly to the mount and gun. Mounts have a minimum of 7 interfaces for accessories to be mounted. The rings are cut at a 45 degree angle instead of horizontally, providing several advantages; the screws holding the parts together are not obscuring the optics knobs, it gives the shooter a horizontal reference line helping the shooter avoid canting the rifle. Mount level is built into the bottom rear of the mount enabling the shooter a quick, accurate means to insure he avoids canting the rifle.
The Spuhr ISMS Cantilever scope mounts are designed to fit directly onto your picatinny rail or directly to your rifles receiver. This Spuhr ISMS Mount System is designed to fit to your Picatinny rail. The Spuhr ISMS Cantilever scope mount is one of the best in the world and is available in 30mm, 34mm, 35mm, 36mm and 40mm.
The make is durable and prevents damage on scope due to flexing during heavy recoil or rough environment. The snipers rifle and the spotters carbine can have the same mount, enabling the use of same equipment and accessories.
The unique lightweight design of the Spuhr mounts provide a rock solid Picatinny-style mounting platform that lends itself to easy accessory mounting and clear visibility of the turrets with minimal movement. Its amazing list of features makes Spuhr a truly Ideal Scope Mounting System.