Tangent Theta 5-25×56 TT525P Illuminated Gen 2 XR Reticle is the best long-range precision rifle shooting money can buy. It is an intermediate-range precision sighting instrument for police and security marksmen. The mastermind behind this telescope is an industry-leading development team that has used its extensive experience to optimize and refine it for unfailing ruggedness, mechanical precision, and unsurpassed image quality. Tangent Theta comes with elevation and windage mechanisms that exhibit precise tactile response and feature a truly TOOL-LESS RE-ZERO® procedure and lockable diopters.
The turrets on this scope are phenomenal and the standard that other scopes should be judged by. Perfectly tactile clicks, and tracking that is as perfect as it gets. You can crank on these turrets literally all day before setting them back to zero and your rifle will still be perfectly zeroed. The re-zeroing of this scope is also as easy as it gets: no tools required, just loosen the center of the cap, lift the turret, set it to zero, then tighten back down the center cap. The zero stop on these turrets in .6 MRAD below your zero, which I actually like a lot because it means you can zero at 200 yards and then dial back to 100 if you do a lot of long-range shooting and want to twist your knobs just a bit less compared to if you had a 100 yard zero.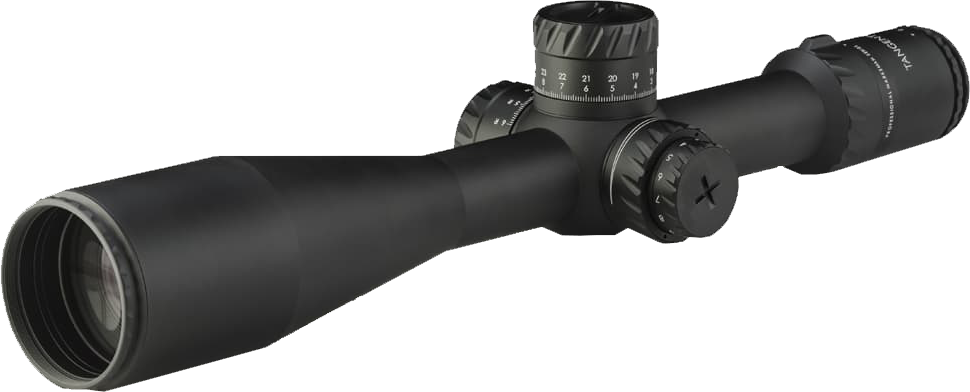 The optical clarity is as good as it gets. No tunneling, no chromatic aberration, just crisp and clear image. The 56mm aperture means that even indoors where there is generally low light you can still see just fine.
Tangent Theta 5-25×56 TT525P Illuminated Gen 2 XR Reticle is a purpose-built tactical riflescope designed to withstand harsh use in adverse conditions in order to accomplish the mission. Through the use of high-quality glass and lens coating, this Tangent Theta riflescope provides exceptional image quality and light transmission as well as providing innovative features.
The Tool-Less Re-zeroing System eliminates the need for wrenches and other tools, truly a tool-less system to re-zero the elevation and windage knobs.
The Tenebraex Articulating Lens Covers can be rotated 360° and set to open according to the user's preferences, flipped back 270° to reduce the profile of the scope and improve visibility of the knobs while in a shooting position.
The Integrated Illumination/Parallax Adjustment provides more ring mounting space. The pull-out illumination knob has 11 intensity settings with a power-down between each numbered setting and a six-hour auto shut off.
If you want the best tactical scope money can buy, this is the one you're going to purchase. Order your Tangent Theta 5-25×56 TT525P Illuminated Gen 2 XR Reticle at Sport Optics today!