Aimpoint is back with an innovative Acro P-2 red dot sight, advancing the standard for pistol mounted optics yet again!
Acro P-2 red dot sight is undoubtedly the next generation sight that incorporates an improved LED emitter coupled with a higher capacity CR2032 battery to provide an astonishing five years (50,000 hours) of constant-on power while getting you on target faster and more accurately.
Acro stands for "Advanced Compact Reflex Optic". Its operating principle is a reflex collimator red dot sight, closed emitter system, with a 3.5 MOA dot size (650 nm red light). It is Night Vision Device (NVD) compatible and submersible to 35 meters (115 ft), quite a lot more than most military units would ever ask for. The "clear aperture" of the P-2 is 15×15 mm (0.59 × 0.59 in) and the aluminum housing has hardened front and rear glass lenses to protect the front lens and LED.
It is intelligently designed to endure the physical forces generated by semi-automatic pistol slides, offering a fully enclosed optical channel to protect the LED emitter.
The new high efficiency LED emitter provides a sharp 3.5 MOA dot. Protective clear glass front and rear lenses guard the advanced reflective lens system. The new digital intensity adjustment keypad provides a more distinct tactile feel when adjusting the dot intensity, and these controls are now placed next to the battery compartment to help protect the power adjustments against unintentional changes.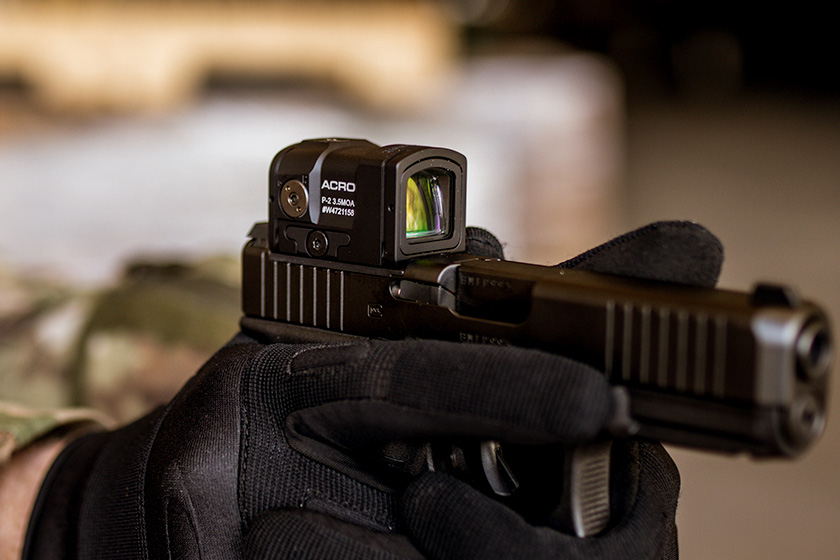 Built to exceed the requirements of professional users, the Acro P-2 has been tested and proven to withstand the extreme shock, vibration, temperatures, and material stresses generated by firing over 20,000 rounds of .40 S&W ammunition.
Aimpoint red dot sights are operationally parallax-free, which means the visible dot remains parallel to the bore of your weapon no matter what angle your eye is in relation to the sight. Therefore, the user never has to worry about centering the dot inside the sight. If you have a proper zero, when the dot is on the target, so are you.
Aimpoint red dots increase your confidence by allowing you to focus on the target while keeping both eyes open, fully situationally aware at all times. Now you can achieve first round hits faster with greater confidence.
What are you waiting for? Order your Acro P-2 red dot sight at Sport Optics today!