Are you ready to try out something new and exciting this hunting season? RECON 6XR is the perfect product for you.
The Fusion Thermal Recon 6 XR is the flagship of the Fusion Thermal clip-on offerings. It has been exclusively designed for serious long-range performance. This clip-on thermal optic gives you extra horsepower for detail observation and long-range application. Equipped with our legendary Arclight Ultra HD Geranium Lens and a 640 WAVE Thermal Sensor this is the mac daddy of the thermal clip-on world.
RECON 6XR is a Multi Purpose Thermal Optic with an ergonomic design. It is small, rugged, and lightweight. This Thermal Clip-on offers some of the best night vision functionality to seasoned veterans with years of experience and someone brand new to night vision technology. This weapon sight comes with a thermal imager clip-on system and an output lens cap. It features a super friendly user menu that is quick and easy to use.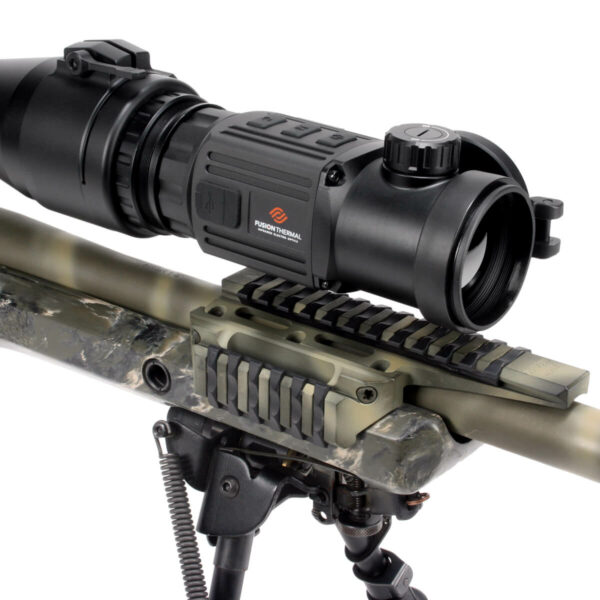 RECON 6XR scope has high-quality resolution imaging, true magnification, brilliant high-end video screen, and battery-saving standby mode with a secure attachment system. It comes with two types of eyepieces, the optic to be used as a handheld monocular, and can be used as a clip-on attachment on a traditional day scope. Thermals are equipped for day or night use, it does not need any external light source to function. Functional in adverse weather conditions and can locate targets through obstacles such as foliage the Fusion Thermal Recon 6XR can offer you superior detection up to 2300 yds.
What are you waiting for? Order your Fusion Thermal RECON 6XR at Sport Optics today!