Are you looking for superior quality, high-performance hunting optics at an affordable price?
Check out the smooth focusing 10×32 Diamondback binocular from Vortex, that delivers the fine details you prize. Taking its lead from the Diamondback rattlesnake, this rugged binocular is striking in how well it detects life in low light. Look for a huge field-of-view—the largest in its class— with enhanced fully multi-coated optics, phase-corrected prisms, waterproof and fogproof construction, soft tapered eyecups, and rugged rubber armor. It's all there in a Diamondback. Now you can use "wow!" and "thank you" in the same sentence.
Featuring a high-definition optical system, a lightweight magnesium alloy housing, and powerful magnification for distant details, the 10×32 Diamondback Binoculars from Vortex are a versatile optic suited to a wide range of uses.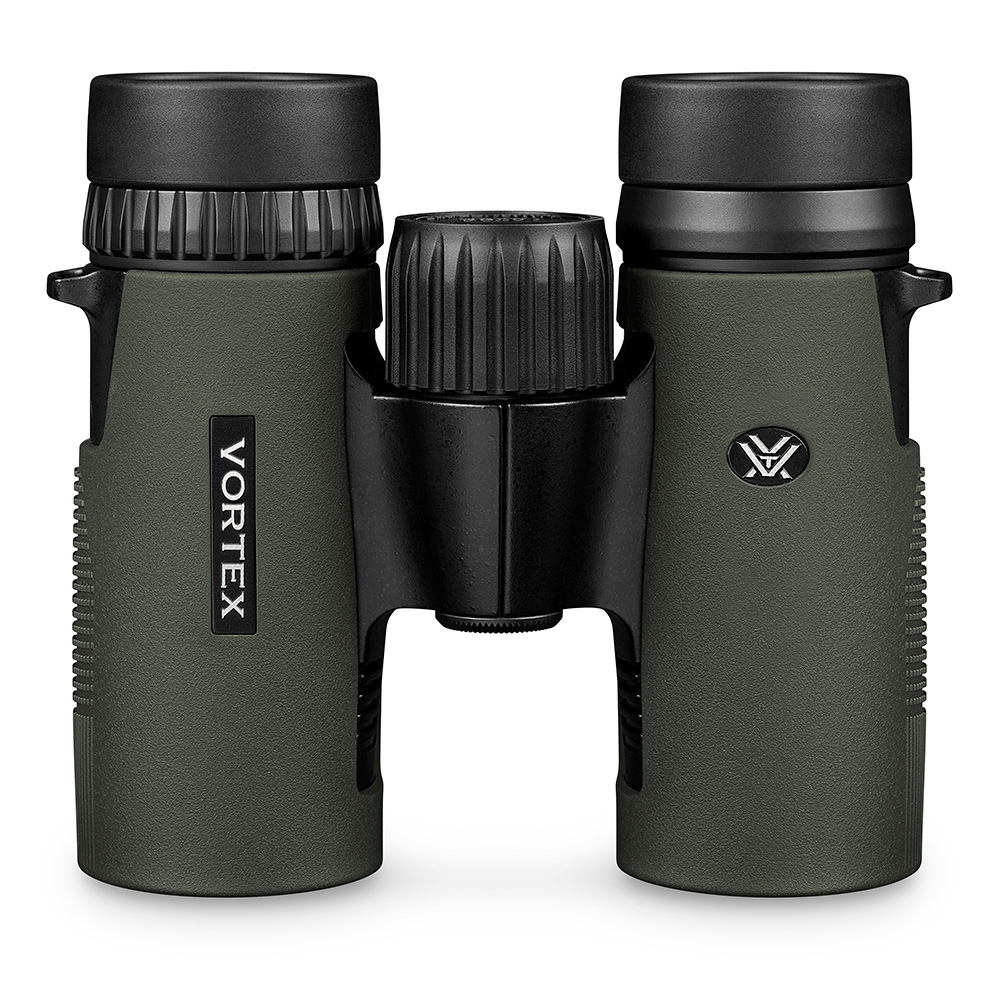 The Diamondback binocular renders views with minimal chromatic aberration, exceptional color fidelity, edge-to-edge sharpness, and optimal light transmission through the use of ultra high definition glass, an index-matched lens configuration, XR Plus lens coatings, and dielectric-coated, phase-correcting roof prisms. The minimum focus is a birding-friendly 6′. The lenses are protected from scratches, oil, and dust by ArmorTek exterior lens coating.
The housing is argon-filled and sealed with O-rings to ensure reliable and durable protection against dust, debris, fog, and water. The Vortex binoculars are rubber armored for nonslip and durable protection and are equipped with a large focusing knob that is easy to use even while wearing gloves. Twist-down eyecups accommodate users who wear glasses. For hands-free use or the steadiest view, the Diamondback HD binoculars can be mounted on a tripod using the separately sold tripod adapter. Naturally contoured to perfectly fit your hands, promoting comfort and eliminating user fatigue, the Diamondback HD includes a winning combination of features.
And the best feature of all, Diamondback HD 10×32 binoculars are covered by the Vortex VIP lifetime, transferable, no-fault warranty. So what are you waiting for? Order yours at Sport Optics today!