Looking for great clarity, comfort, and construction quality packed into one affordable binocular?
The Vortex Diamondback 8×28 binocular delivers a rock-solid optic that optically punches high above its class. Featuring a high-definition optical system, a lightweight magnesium alloy housing, and powerful magnification for distant details, the 18×28 Diamondback Binoculars from Vortex are a versatile optic suited to a wide range of uses.
Included in the Box:
Soft side carry case
Soft side carry case strap
Comfort neck strap
Tethered objective lens covers
Rainguard Eyepiece Cover
Lens Cloth
Construction Features
• Rubber Armor: Provides a secure, non-slip grip, and durable external protection
• Waterproof: O-ring seals prevent moisture, dust and debris from penetrating the binocular for reliable performance in all environments
• Shockproof: Rugged construction withstands recoil and impact
• Fogproof: Argon gas purging prevents internal fogging over a wide range of temperatures
• Roof Prism: Valued for greater durability and a more compact size
• Magnesium Chassis: Decreases weight and increases strength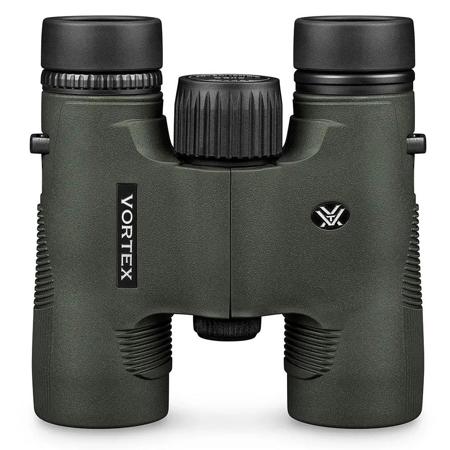 The Diamondback binocular renders views with minimal chromatic aberration, exceptional color fidelity, edge-to-edge sharpness, and optimal light transmission through the use of high definition glass, an index-matched lens configuration, XR Plus lens coatings, and dielectric-coated, phase-correcting roof prisms. The minimum focus is a birding-friendly 6 feet. The lenses are protected from scratches, oil, and dust by ArmorTek exterior lens coating.
The housing is argon-filled and sealed with O-rings to ensure reliable and durable protection against dust, debris, fog, and water. The Vortex binoculars are rubber armored to make them nonslip and offer durable protection. They are equipped with a large focusing knob that is easy to use even while wearing gloves. Naturally contoured to perfectly fit your hands, promoting comfort, and eliminating user fatigue, the Diamondback HD binoculars include a winning combination of features.
Vortex Diamondback 8×28 is one of the most affordable, high-performance binoculars loved by newbies and pros alike, get yours at Sport Optics today!