The Vortex Diamondback HD 15×56 binoculars are one of the new fittings from the compact Diamondback HD series from Vortex. In this Diamondback HD series, the optics have been optimized. By using selected glass elements, an exceptionally clear image is achieved. The Diamondback HD has excellent color fidelity and the full picture is razor-sharp.
With the Vortex Diamondback HD 15×56, comes the GlassPak binoculars harness comes with which you always have the binoculars within easy reach so that the Diamondback HD can be used quickly while offering protection and significantly more comfort than traditional carrying straps.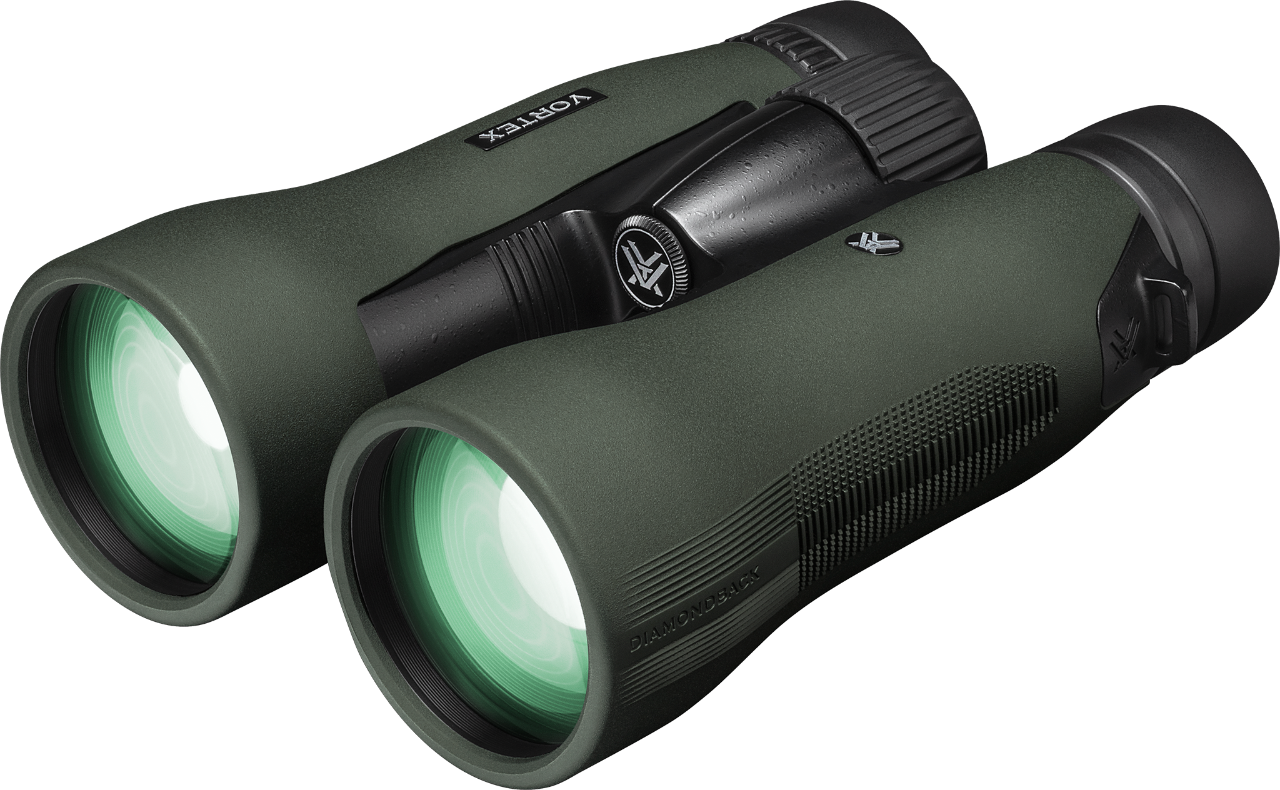 Designed to be your go-to optic for long-range/low-light use in wide open and expansive terrain, like the plains of the American West, the Vortex 15×56 Diamondback Binocular provides a superior viewing experience by combining well-engineered optics and a wide field of view with a lightweight and durable ergonomic housing.
The oversized extra-low dispersion (ED) high-definition (HD) lenses treated with proprietary multi-coatings, and dielectric-coated and phase-corrected roof prisms deliver vivid true-color images that are bright and crisp across the entire field of view without distortion or color fringing. The lenses are further treated with ArmorTek coatings that cause water to bead and runoff and allow oils and sap to be removed without scratching or leaving residue. This ensures clean and clear lenses for optimum viewing.
Vortex designed the binocular with comfort in mind to minimize user fatigue during long observation. The housing is made from a lightweight and durable magnesium alloy and protective rubber armor wraps the body and provides a slip-resistant grip. Design details on Vortex Binoculars like raised dimpled palm pads and underside thumb indentations further improve grip stability and comfort. The housing is argon-filled and O-ring sealed to be waterproof and resistant to internal fogging in extreme conditions.
Weighing over two pounds, Vortex recommends tripod mounting to eliminate distracting handshake and arm fatigue that many would experience hand-holding an optic of this size and magnification. To help you mount it, a Uni-Dapter tripod adapter is included. You just need to bring the tripod. To make carrying the Diamondback all day in the field easier, a harness system is included to shift the weight from your neck to your shoulders. A case is also included for additional protection.
Vortex unconditionally guarantees a well-functioning product, for life. You can count on the best quality products, with a very detailed finish. No need to wait to go on your next adventure! Grab this incredible binocular at an amazing price only at Sport Optics today!