Raptor 10×32 from Vortex Optics are high-quality binoculars with a wide field of view and a clear, sharp image even in poor visibility conditions. The binoculars' housing is sealed, water and dust resistant. The wide adjustment range allows the binoculars to be comfortably adapted to your needs.
Vortex Optics' 10×32 Raptor Binoculars combine a powerful 10x magnification with a wide 63° apparent angle of view to help reduce visible handshake and the associated viewing difficulties often associated with high-power optics. Because of their Porro prism design, they present an immersive three-dimensional observational experience with an improved depth of field versus similarly sized roof prism designs.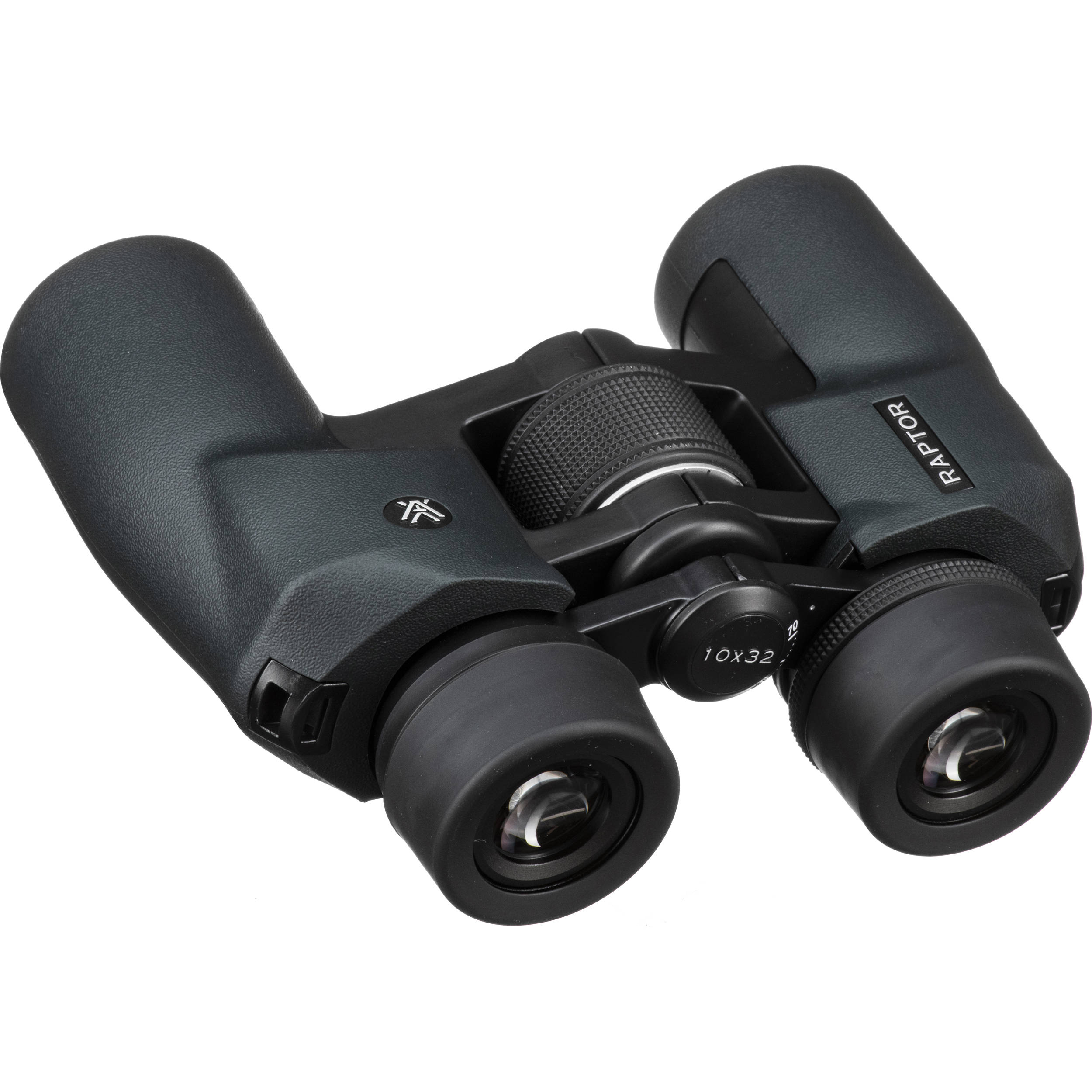 Vortex Binocular's narrow 50mm minimum interpupillary distance makes them ideal for children and adolescents, who often have difficulty achieving a singular image from full-sized binoculars. A great choice for viewing stadium sports action, the Raptor binoculars come with tethered objective lens covers, and their lightweight design reduces the chance of strain when worn around your neck for prolonged periods.
Vortex® Raptor 10×32 Binoculars feature fully multicoated lenses that increase light transmission by using multiple anti-reflective coatings on all air-to-glass surfaces. Phase-correction coating enhances resolution and contrast. Midsize, wide-angle porro-prism binoculars deliver superior depth of field, a wide field of view and 3-D color image reproduction, even in low light. Optics are O-ring sealed to keep water, dust and debris out. Nitrogen purged for fogproof performance. Rubber armor protects and provides a sure grip. Twist-up eyecups for comfortable viewing with eyewear. Right-eye diopter and center-focus wheel for image-honing crispness. VIP unconditional lifetime warranty. Includes: tethered lens covers, neck strap and padded carry case.
For the price, the Raptor Porro prism binoculars are simply stunning. For younger people, those just starting out with binoculars or even a binocular that can easily be used by all the family, these fit the bill, as they are lightweight and for the price have a terrific field of view.
So what are you waiting for? Order your Vortex Binoculars from Sport Optics today!