NightForce Remington 700 One-Piece 20 MOA is designed to give precision and stability for the Remington 700 Rifles.
All NightForce one-piece bases are made for both Remington 700 Long & Short Action Rifles. Night Force Remington 700 One-Piece Bases feature an integral recoil lug machined to the bottom of the base that extends into the ejection port of the receiver. The lug is designed to give shooters a precise secure fit, relieving stress from the screws while preventing their base from moving. These Night Force Bases allow shooters to be sure that their rifle scope will stay in place, every time.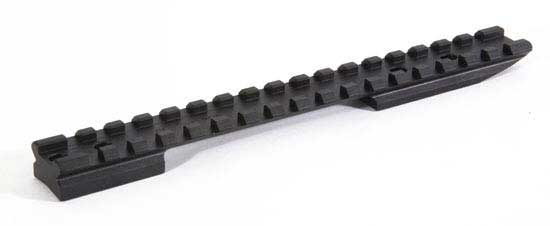 Designed to exceed Military specifications, these steel mounts from Nightforce are tested for unfailing, repeatable performance. Bases are constructed from heat-treated, high-strength steel and CNC machined from a single steel billet to closely match the receiver contour.
Nightforce bases are machined to exact Mil-Std. 1913 specification rail dimensions, assuring perfect alignment. This design allows the same scope to be used on several different rifles as well, always optimizing eye relief. Choose from 20MOA or 40MOA tapers (40MOA for Remington actions only). Designed and machined for right- or left- handed actions, Nightforce bases will never interfere with loading or extraction.
Nightforce Optics offer exceptional products, each built with painstaking craftsmanship and a fanatical attention to detail. Order yours today!