Looking for the perfect binoculars for surveillance?
The Steiner P-Series binoculars are exclusively designed for patrol duty, tactical operations, and surveillance missions that require fast capture, clear images, and sharp detail under all conditions. The Porro prism design delivers bright, three-dimensional images, sharp resolution, and a wide field of view. From low light to full sun, extended surveillance to sudden action, the P-Series gives you a distinct advantage.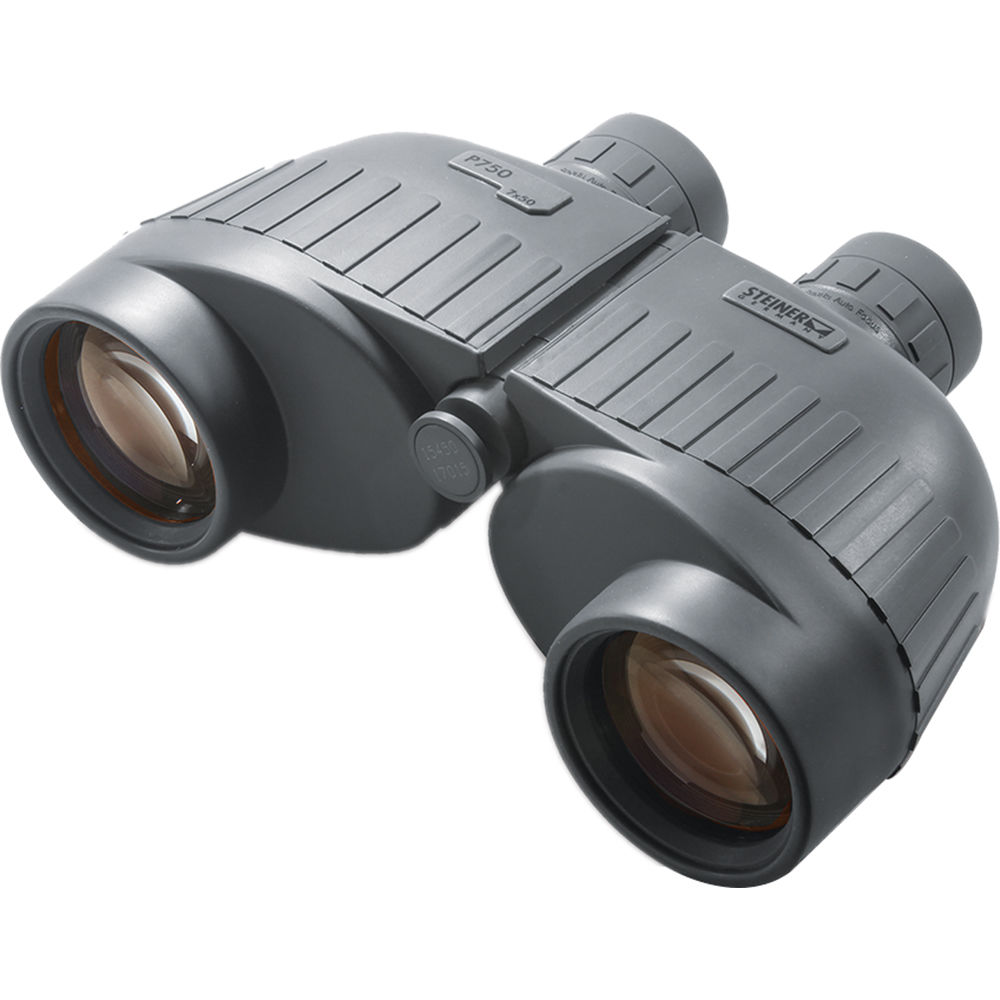 Steiner Optics' 7×50 P750 Binocular features a gray armoring to blend into urban environments. It comes with large objectives to provide detailed views in full daylight and enhanced low-light performance, and a utilitarian 7x magnification to bring subjects in close while maintaining a wide field of view that preserves situational awareness. It features multiple technologies and design options that work together to create an easy-to-use binocular that will stand up to the rigors of a life lived on-duty.
Steiner Police P750's fully multicoated optics enhance image quality in challenging light conditions such as in hazy sunlight or at dawn and dusk. The Porro prism optical path provides a rich depth of field that allows users to discern the relative positions of objects, making it easier to judge distances. The prisms employ a floating-mount system that uses flexible silicon mounts to absorb shock, impact, and abuse without damage. Complementing the optical system is the Sports Auto Focus system that lets users individually focus each eyepiece and maintains image sharpness from 66 feet to infinity without the need to manipulate a focus wheel.
The optics on Steiner binoculars are safeguarded with the Floating Prism System, a flexible silicone mount that serves to cushion and protect against shocks. The lenses are waterproof and fog-proof, guaranteeing visibility in all weather and field conditions. Light transmission is maximized, offering optimal performance in low light. The binoculars feature Steiner's innovative Sports-Auto-Focus™ system, focusing each eyepiece to your vision once, eliminating any further need to refocus regardless of changes in the target's distance. A Makrolon® housing and long-life rubber armoring make these binoculars exceptionally durable and impact-resistant, withstanding force up to 40 Gs. Meanwhile, the grey coloring allows for maximum discretion in urban environments. An included neck strap and carry case make the P750 easy to carry, helps to guard against falls, and allows for safe storage.
Steiner Military Police 7×50 P750 is primarily useful for situations that demand fast capture, clear images, and sharp detail regardless of the conditions, which makes it ideal for law enforcement, patrol duty, and tactical operations along with surveillance missions.
What are you waiting for? Order your Steiner Police P750 Binoculars at Sport Optics today!